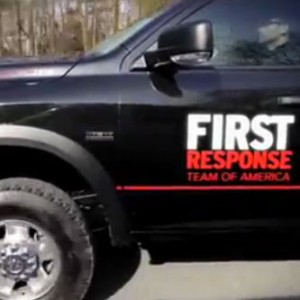 Ram trucks are all about integrity, determination and hard work. That's why we jumped at the opportunity to partner with The Weather Channel to support another hardworking group, the First Response Team of America. Ram has donated a number of heavy-duty trucks to the team to aid in its efforts to serve communities in need.
The First Response Team of America is a nonprofit disaster relief organization that is often one of the first forms of outside aid to reach communities in the aftermath of severe weather. The team tracks weather conditions, going from disaster area to disaster area to assist in rescues and cleanup efforts.
With the help of heavy duty equipment like Ram trucks, the First Response Team has done everything from clearing roads and pumping out floodwaters to powering up emergency rooms and clearing home sites for those without insurance.
The Weather Channel will be chronicling the team's work through an exclusive series of in-the-field "Responding by Storm" reports, which will appear on the network and weather.com, as well as through exclusive mobile and tablet content. The reports will also appear on the Ram website.
We are excited to support an organization of people who are committed to helping others – even when it means working hard and getting dirty. Ram trucks have always, first and foremost, been service vehicles and are often chosen as the best vehicle for the job when it comes to helping communities grow and rehabilitate. That's why partnering with the First Response Team of America is such a natural fit.
First Response Team of America coverage will appear on the Weather Channel and online.