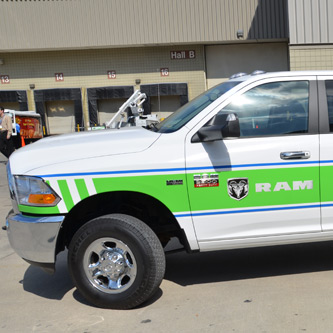 We are excited to announce that Ram Trucks will soon be the only automaker in North America to offer a factory-built compressed natural gas-powered (CNG) pickup truck. Designed especially for fleet and commercial customers, the new Ram 2500 Heavy Duty CNG is good for the environment and good for your bottom line.
Compressed natural gas is an abundant, domestically sourced fuel that is widely accepted in the U.S., Europe and Asia. It is also clean burning, showing a 70 to 90 percent reduction in smog-producing pollutants and significantly reducing greenhouse gas emissions.
CNG vehicles use both natural gas and gasoline, switching automatically from one to the other as needed. The Ram 2500 CNG uses a small amount of gasoline during engine startup and then can run exclusively on compressed natural gas for an estimated 255 miles. If the CNG tanks are emptied, the truck will automatically switch to a backup supply of gasoline, extending its range to 367 total miles.
CNG vehicles are cost-effective for small business owners because natural gas prices are generally $1.25 less than the gallon equivalent of gasoline, promising significant savings over the life of the truck.
Plus, the Ram 2500 CNG has all the heavy-duty capability of a standard Ram truck. It features competent towing, payload hauling and outstanding acceleration for highway merging and passing. Like every Ram 2500 Heavy Duty model, the Ram 2500 CNG's brake system reflects distinctive advantages and its Front GAWR is rated up to 5,200 lbs. — ideal for northern climates requiring snow plow attachments.
Natural gas is found abundantly in North America and is a common fuel source for large vehicle fleets. CNG is a mature technology that's available at a lower cost than other alternative fuels. Additionally, positive consumer attitudes regarding green products and favorable governmental regulations and policy initiatives make CNG a popular choice.
Fleet operators who choose CNG have a number of fueling options. There are approximately 1,500 CNG fueling locations across the U.S., half of which are accessible to the public. CNG producers are working aggressively to bring more on line every day. As CNG is more widely adopted and as more CNG vehicles hit the marketplace, the CNG fueling infrastructure is expected to grow significantly. Plus, the Ram 2500 CNG's bi-fuel capability means it can operate on gasoline as much, or as little, as you need it to.
We're currently taking orders for CNG trucks and expect to roll out the first vehicles in July 2012. The Ram 2500 CNG is available exclusively as a Crew Cab 4×4 model with 169-inch wheelbase, in either an ST or SLT trim level. Pricing starts at $47,500, including a $995 destination charge.