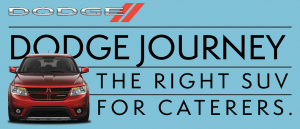 In the second installment in The Working Blog's infographic series, we're taking a look at the right vehicle for a caterer. In the first installment, we explained why the Jeep Grand Cherokee is the right SUV for a restaurateur.
As a caterer, you're required to wear many hats that often go unnoticed by your customers or the attendees at an event. It's part of the business. But what kind of vehicle is the right choice for a caterer? It has to be versatile, fuel efficient, and flexible. In other words, the right vehicle also has to wear many hats. The Dodge Journey is the perfect vehicle for caterers, with its flexible seating and storage, fuel economy, car-like ride, navigation system, and incentives from our On the Job program. Check out the infographic and scroll down to the bottom of the page to read more.

Fuel Economy
Pickups and deliveries are the name of the game for many caterers. Transporting food items, food serving equipment, tables, chairs, linens, and more means a lot of time on the road. Rest assured that in a Dodge Journey, you can make more deliveries for less. With an EPA estimated 26 HWY MPG and a range of up to 500 miles, you can concentrate on making trips to your destination, not to the gas station.
Flexible Seating and Storage
Saving trips to the gas station doesn't mean much if you can't haul everything you need at the same time. Between its seating for seven and 67.6 cubic feet of cargo space, the Dodge Journey can handle your staff, your food, and setup items, or a combination of both to really increase the efficiency of your travel time.
UConnect® Navigation
The Dodge Journey's available UConnect system ensures that no matter the event or delivery destination, be it across town or across the state, you'll be in good hands. The beautiful 8.4-inch touch screen is your interface to extensive navigation, multimedia, and Bluetooth® capabilities. You can even use the navigation system with voice command, so that your precious cargo is safe with your hands on the wheel. The Dodge Journey even has available Wi-Fi connectivity, making it a veritable office on wheels.
Smooth Ride
Simply put, transporting food and other items that will be at the forefront in an event requires a car-like ride. Presentation at an event is huge. Luckily, the Dodge Journey features the suspension, drivetrain, and stability systems to provide refined drive and handling dynamics and superior noise isolation.
BusinessLink®
When you buy a Dodge Journey for catering, you're getting much more than a capable, flexible, efficient SUV. And once you've purchased a Dodge Journey for your business from any of our BusinessLink dealers, you can enroll at no charge in the BusinessLink program. Perks of BusinessLink membership include priority next-available bay service, extended service/repair hours, free loaners for select vehicles, free shuttle services, a dedicated account manager, and more.
The Dodge Journey is the right SUV for restaurateurs and other small businesses that need storage and seating flexibility, fuel economy, navigation capabilities, and a smooth ride. With the BusinessLink program dedicated to serving you and your vehicle around the clock, there's no better time to visit your local Chrysler, Jeep, Dodge or Ram dealer to test-drive the Dodge Journey that will make your catering business thrive.
Keep visiting The Working Blog as we continue our infographic series to highlight the perfect Chrysler Commercial Vehicle for a wide array of small businesses.