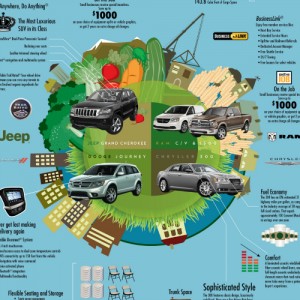 Our infographic series highlighting the right vehicles for different small businesses is below. Additionally, we're supporting Small Business Saturday on November 24, a day for customers to buy local and support their small businesses and communities.
Over the past few months, we've highlighted the versatile, functional, and capable lineup of Chrysler Commercial Vehicles through a series of infographics to highlight how our different vehicles cater (no pun intended) to various small business owners. Well, here is the entire series in all its glory. It tells a story of the different needs that small businesses have to address with a vehicle. But it also represents the ecosystem that connects different small businesses, an ecosystem that small businesses, customers, and our economy ultimately rely upon.
The story of Chrysler Commercial Vehicles and small businesses is just in time for Small Business Saturday, which you can read about below the infographic. And for more detailed information about why these vehicles are the right vehicles for small business, read these blog entries:
Small Business Saturday – November 24
On November 24, consumers will be making a big impact shopping at small businesses nationwide thanks to Small Business Saturday. From the small business owner to the customer buying locally, it's a day to energize communities.
The hoopla surrounding "shopping holidays" like Black Friday and Cyber Monday has obfuscated the role of the real lifeblood of local communities and the national economy. Big box stores all across the country sell a glut of the year's "hottest" items at razor-thin margins, banking on a quantity-over-quality, location-independent philosophy. Even more people will do shopping online, all while America's small businesses keep chugging along. That's where Small Business Saturday comes in.
On November 24, millions of customers will spend their time and hard-earned money at small businesses in their communities. The experience – for shoppers and for business owners – is something that big box stores and online giants just can't replicate.  Small businesses give customers spectacular service, unique goods, and a physical community space. Customers get social time with their neighbors and friends, goods that they can't find anywhere else, and quality face-to-face interaction with business owners and employees.
Join us in support of Small Business Saturday. Visit the Small Business Saturday website to learn more and find out how to help.