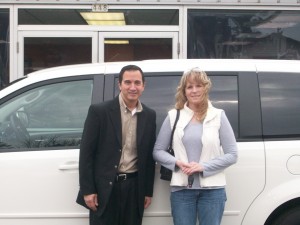 How do you use your work vehicle to drive your small business? Our Declare Your Business Drive contest asked small business owners to answer that question for their chance to win a new Chrysler Commercial Vehicle.
Nearly 500 small business owners told us their stories and we are excited to announce that Heather DuBois of Blue Moon Botanicals and Mark Kinch of Plum Crazy are each the lucky winners of new Chrysler Commercial Vehicles.
Heather DuBois won the 2013 Dodge Grand Caravan SE, one of Chrysler Group's most popular options for small businesses. DuBois will use the vehicle to help grow her Clayton, Wis., -based business, Blue Moon Botanicals, which creates unique and personalized hand-stamped jewelry.
"Winning this vehicle is a dream come true. It's not always in budget for small business owners to have a reliable vehicle that's able to meet a variety of business needs such as transporting displays products and people," DuBois said.
Mark Kinch won the rugged and reliable 2013 Ram Tradesman 4×2 for his Lapeer, Mich., -based business, Plum Crazy. Loyal to the Dodge and Ram brands for many years, Kinch relies on his work vehicle to take him to gun shows throughout the region.
Kinch won in the Declare Your Business Drive category reserved for small business owners who already drive a Chrysler Group vehicle. Already the proud owner of a 1995 diesel-powered Dodge Ram truck with nearly 300,000 miles on it, Kinch came across the contest while looking at Ram 1500 Tradesmen trucks on the Chrysler Commercial Vehicle website.
"The Declare Your Business Drive contest was a success and provided us the opportunity to showcase our vehicles and give back to the small business community," said Michael Ring, Head of Small Business Sales and Operations, Chrysler Group LLC. "We understand the importance small businesses have on our national and local economies and we will continue to support them by providing vehicles and services that meet their needs."
Declare Your Business Drive was an exciting opportunity for us to hear stories from hundreds of the small businesses we at Chrysler Commercial Vehicles strive to serve every day. Thank you to all of the business owners who participated and stay tuned for even more great opportunities to win from Chrysler Commercial Vehicles.