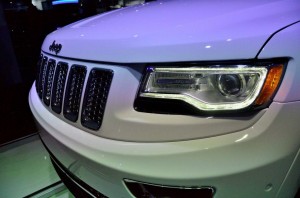 The 2013 North American International Auto Show is the most important auto show in the world. Members of the media from all over the globe descend upon Cobo Center in Detroit for a look at the newest, best, and most exciting vehicles. Then, it's the consumers' turn, as tens of thousands of automobile fans, buyers, and everyone in between get to "ooh and aah" at the latest and greatest vehicles. Often lost in the shuffle is attention to the small business owner and those people who purchase vehicles for business purposes.
Small business owners usually have a specific set of needs for their vehicles, like efficiency, reliability, and capability. So we thought we'd take a look at the new and noteworthy vehicles from Chrysler Commercial Vehicles so that, whether you get to attend NAIAS or you're in the market for a new work vehicle, you know what to look for.
2014 Jeep® Grand Cherokee with EcoDiesel: Some of the biggest news from NAIAS was that the new 2014 Jeep Grand Cherokee will have an available clean EcoDiesel engine. We have a full write-up of the vehicle that small business owners have been waiting for.
Dodge Challenger Wins "Shoppers Choice" Award: We wrote about, well, how cool it would be to be able to drive a Dodge Challenger for work. True, it's not for everybody. But for the right person and the right business, the Dodge Challenger would go a long way in representing a brand.  Cars.com awarded the Dodge Challenger its "Shopper's Choice," which represents its favorite car of the year at NAIAS, for the Challenger's styling, handling, and surprising interior spaciousness.
2013 Ram 1500: North American Truck/Utility of the Year: In what promises to be a year of accolades and awards, the new Ram 1500 has been named 2013 North American Truck/Utility of the Year by a panel of automotive experts from the U.S. and Canada.  Its best-in-class fuel efficiency – 25 miles per gallon – Pentastar and HEMI engines, among other technology-forward features, make it the greatest Ram Truck to date.