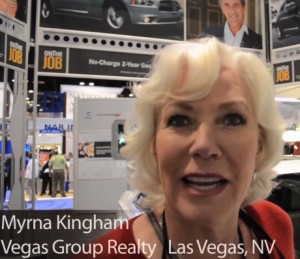 Every Friday on The Working Blog, we publish another in our "Real People, Real Businesses" series. We're featuring YOU, the small business owners and the real drivers of the economy. Why did you start your small business? What makes you tick? Why are small businesses so important?
We'll also feature insightful guest posts from thought and industry leaders and BusinessLink dealers from around the country who partner with and add value to small businesses.
We're always open to meeting new people and connecting with real businesses across the country. If you'd like to be featured in our "Real People, Real Businesses" series, you can easily reach out to us on Twitter or on Facebook! We'd love to talk.
Today, we're featuring REALTOR® Myrna Kingham of Vegas Group Realty in Las Vegas. Around 35 years ago, while working as a receptionist at a real estate office, Myrna decided that if they (the real estate agents) could do it, she could do it, too.
She was right. She went to school, passed the requisite tests and has been in real estate ever since. Her car of choice? The Chrysler 300, which is the perfect car for real estate agents. After checking out the Chrysler 300 at the 2011 REALTORS® Conference & Expo, she knew it was time to buy a new one (her second Chrysler 300). She loves the huge touchscreen with navigation and luxury features like the hot-and-cold cup holders.
For real estate agents, the Chrysler 300 provides ample interior space for driving around clients. It's a comfortable, smooth and fuel-efficient vehicle that lets real estate agents spend more time on the road and less time at the pump.