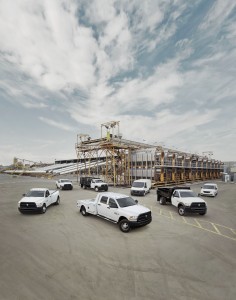 Some people prefer summer, because of the warmth and sunlight. Some people prefer fall and its colorful foliage. Some people prefer winter for the snow and holidays. Some people prefer spring and Mother Nature's return to green.
As for us, our favorite season has nothing to do with the weather and everything to do with finding the right hard-working truck to get the job done. That's why we're excited to announce that Commercial Truck Season begins April 17.
If you're in the market for a new truck, especially considering the uptick in jobs that usually accompanies the warmer weather months ahead, now is the time to buy. We have special offers and incentives designed to get you the hard-working truck you need.
The On The Job Bonus Allowance offers eligible customers an additional $500 to use in conjunction with the standard On The Job programs that offer upfits, a lube-oil-filter allowance, a commercial graphics allowance and more.
Be sure to find a Ram Trucks dealer near you to check out your future truck and learn more about why Commercial Truck Season is the time to buy.