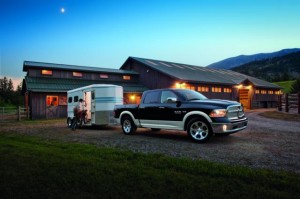 We live in an interesting time. Conventional wisdom used to be that business and the environment were at odds with each other. But with rising fuel costs that may never come down, being green and efficient now closely align with small business owners and their bottom line. Money and time spent at the pump increase the total cost of ownership of your vehicles and keep them off the road.
That's why, as everyone celebrates Mother Nature today, it's a great time to consider updating your work vehicle to take advantage of the incredible efficiency progress that we've made. Our latest models speak to a wide variety of business needs, so we've highlighted a few below.
Chrysler 300 Cruises with Best-in-Class Fuel Economy
We've already established how the Chrysler 300 is the perfect car for Realtors® and business owners looking to enhance their hardworking, successful image. But did you also know that the Chrysler 300, with a 3.6-liter Pentastar V-6 engine and state-of-the-art eight-speed automatic transmission, gets up to 31 mph highway, giving it best-in-class fuel economy?
Dodge Dart Aero Delivers Up to 41 MPG
If you need a true driving work vehicle designed to tackle mile after mile, the Dodge Dart is a great choice. The recent addition of the Dodge Dart Aero to the lineup should make that choice even easier. Powered by the award-winning 1.4-liter MultiAir intercooled turbo engine, the Dodge Dart Aero model delivers 184 lb.-ft. of torque and up to 41 mpg highway.
Ram 1500 Runs Up to 25 MPG
The award-winning 2013 Ram 1500 not only set the new benchmark for fuel economy in the light-duty truck segment, it really broke new ground. Thanks to lighter, stronger materials and a segment-first 8-speed transmission, the Ram 1500 gets up to 25 mpg highway. The 1500 is tough, capable and has redefined the light-duty segment.
Check out this video about the hard work and ingenuity that the Ram team used to achieve such staggering fuel economy.
Jeep® Cherokee Changes the Game
Though not yet available, the all-new 2014 Jeep® Cherokee is the first SUV with a nine-speed automatic transmission, and it features either the 2.4-liter Tigershark MultiAir I-4 engine or the 3.2-liter Pentastar V-6 engine (the first Chrysler Group vehicle to do so). All this adds up to a vast improvement in fuel efficiency over the outgoing model, all while staying true to the Jeep brand's capability core.