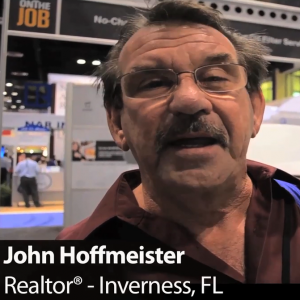 Every Friday on The Working Blog, we publish another entry in our "Real People, Real Businesses" series. We're featuring YOU, the small-business owners and the real drivers of the economy. Why did you start your small business? What makes you tick? Why are small businesses so important?
We'll also feature insightful guest posts from thought and industry leaders and BusinessLink® dealers from around the country who partner with and add value to small businesses.
We're always open to meeting new people and connecting with real businesses across the country. If you'd like to be featured in our "Real People, Real Businesses" series, you can easily reach out to us on Twitter or on Facebook! We'd love to talk.
We met John Hoffmeister of Inverness, FL, at the 2012 REALTORS® Conference and Expo in Orlando. John loves driving his Chrysler 300 to show around prospective clients because of its accessibility, size and style. And like many Realtors (and small-business owners), his path to helping people buy homes isn't exactly straightforward.
Originally hailing from New York, John got into real estate after a lengthy mail-carrying career. As a trusted community member and confidant of the folks he delivered mail to, John consistently heard about the issues that his patrons had with regard to their properties and real estate. That inspired a career change.
Now, as a Realtor, John provides a valuable service to his clients by inspiring confidence and fulfilling their needs, wants and desires. Driving a Chrysler 300 is one way that John gains the trust of his clients. Even before his real estate career took off, driving the 300 gave a style that exuded a look of success. Now, as an established Realtor, the 300 has cemented its role as a crucial part of doing business.
John's favorite features of the 300 include its size, comfort, responsiveness and handling. For him, its dependability and ability to put his customers at ease during a sale make the Chrysler 300 the perfect car for Realtors.