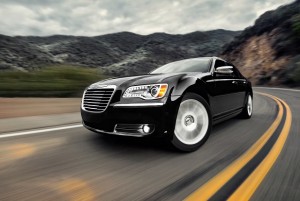 The success of a small business owner depends in no small amount on how he or she can reconcile ideas which are commonly thought to be polar opposites.
For example, in order to lead well, one must have 100% confidence in oneself as a leader. Then again, one must also lead with humility, being on the lookout constantly for ways to improve and knowing full well that there is always more to learn.
In this case, balancing two seemingly opposed ideas—confidence and humility—produces a well-rounded leader, which in turn can produce a smooth-running business. When it comes to vehicles, balancing a series of seemingly opposed ideas—power and efficiency, affordability and luxury, to name just a few—can produce a car well-suited for just about any business. That car is the Chrysler 300.
Power/Efficiency
The 3.6-liter Pentastar® V-6 engine with eight-speed automatic transmission produces up to 300 horsepower at little cost to overall efficiency. With an EPA-estimated 19 city/31 highway mpg, the Chrysler 300 rivals many midsized sedans, including the 2013 Chrysler 200, no slouch itself when it comes to mpg.
For more power, owners can step up to a 5.7-liter HEMI® V-8 engine that delivers a respectable efficiency (25 mpg highway) despite also delivering a road-gripping 363 horsepower. This is thanks in large part to the HEMI engine's Fuel Saver Technology, which optimizes fuel efficiency when V-8 power is not required.
Luxury/Affordability
Every detail in the Chrysler 300 is designed with refinement in mind. While the advanced acoustic properties reduce outside noise and increase interior peace, premium finishes and soft-touch materials lend depth to surfaces found throughout the cabin, creating a complete picture of luxury, but not one that will break the bank.
Business owners interested in pricing out the Chrysler 300 will find the MSRP compares favorably to similar vehicles in its class, especially when one considers the vehicle's quality and quantity of features that come standard with purchase.