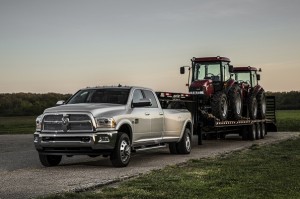 Last Friday, June 28, the Chrysler Group LLC hosted a day-long media event at the Chelsea Proving Grounds in Chelsea, Michigan. On hand to make announcements regarding future vehicles and products were the Dodge, Jeep, and FIAT brands. However, despite the outpouring of good news from what seemed like all directions, it was the Ram Trucks brand that really stole the show.
Ram Trucks used this day to reveal a number of groundbreaking vehicle developments for model year 2014, including an all-new 6.4L HEMI® V8 engine for the Heavy Duty and Chassis Cab lineups and an industry-first, diesel-powered, light-duty pickup truck.
In coming weeks, The Working Blog will take a closer look at the many innovations revealed on Friday by Ram Trucks—as well as those revealed by other Chrysler Group brands—with a focus on the ways small business potentially stands to benefit. In the meantime, please enjoy this video replay of top-level executives and engineers discussing the coming changes to the Ram Trucks lineup in model year 2014.
Would you like to see more? Please enjoy this video of Bob Hegbloom, Director of Ram Trucks, speaking about the industry "firsts" achieved recently by Ram Trucks. It, too, comes from last Friday's big event in Chelsea.