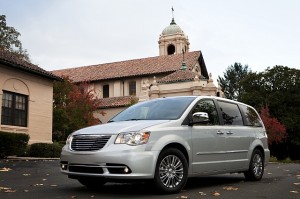 One sure sign of success in small business—or, for that matter, in large business and just about anything else—is longevity. A business or brand that can make it past the five-year, the ten-year and especially the twenty-year mark suggests that a sound initial idea has been paired with effective implementation, not just once, but over and over, day in and day out, for years.
The fact that Chrysler Group minivans have been a staple of the American road for nearly 30 years suggests a similar story. What began as a good idea in the early 1980s, the "minivan," has become one of the most dependable and versatile vehicles in a lineup filled with dependable and versatile vehicles. Credit for that goes to constant innovation and a real commitment to quality, on display more in the 2013 Chrysler Town & Country than in perhaps any other minivan to date.
Performance
By coupling a 3.6L Pentastar® V6 engine with the AutoStick six-speed transmission, the Chrysler Town & Country can boast 283 horsepower and up to 25 mpg highway. That kind of balance between brute force and efficiency is just the thing to keep, say, a realtor or insurance agent powering from one important meeting to another, all around the city.
Technology
With phone, voice, Web and navigation capabilities, the available Uconnect® system can function as a personal/mobile assistant, helping you stay connected no matter where the day's business takes you. Learn more about the Uconnect system's complete functionality by visiting the Uconnect website, here.
Safety & Security
Choose the available SafetyTec™ safety package with your Chrysler Town & Country and receive 42 innovative Safety & Security features, including SmartBeam® Intelligent Headlamps, rain-sensitive windshield wipers and advanced airbags.
Incentives
Considering its overall high quality, the Chrysler Town & Country could function as its own incentive. However, to sweeten the deal, Chrysler Commercial Vehicles is currently offering a number of On The Job incentives, from a $1,000 graphics allowance to $1,000 for new upfit equipment.
See all the available On the Job incentives by visiting the Chrysler Commercial Vehicles website.