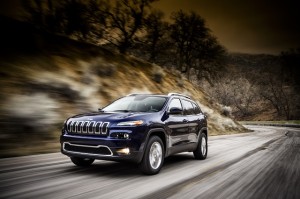 Although the focus of the Real People, Real Businesses series is most often on you, the small business owner, we like to use the platform to occasionally feature other professionals as well, especially those whose knowledge base or area of expertise can somehow benefit our audience. This week, our featured professional is Jim Morrison, Director of Jeep® Product Marketing.
A few weeks ago, at the Chrysler Group "What's New" media day in Chelsea, Michigan, Mr. Morrison answered questions about the all-new 2014 Jeep Cherokee, a midsize Jeep vehicle that offers a modern new design, better on-road handling, better fuel economy and more advanced safety and technology features than the outgoing Jeep Liberty, and all for a lower starting price—that's music to the ears of a budget-conscious entrepreneur. (And what entrepreneur isn't budget-conscious?)
Please enjoy this video of Mr. Morrison speaking in-depth about the 2014 Cherokee as well as other vehicles in the 2014 Jeep lineup, namely the 2014 Jeep Grand Cherokee (with 3.0-liter EcoDiesel V-6 engine), the 2014 Jeep Compass and the 2014 Jeep Patriot.
Visit www.chryslercommercialvehicles.com to learn more about On the Job incentives available to small business owners looking to bolster their workforce with new 2014 Jeep brand vehicles.