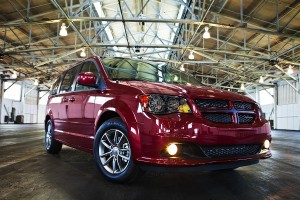 It happens all the time that new products come to market. It happens only rarely, especially in the auto industry, that a new product is so novel and yet, come to find out, so necessary that it spends the first 30 years of its existence reshaping the way families and even business owners think about transportation. Of course we're referring to the minivan, which Chrysler Group LLC introduced to the market exactly 30 years ago this fall.
When the first Chrysler Group minivans began rolling off the Windsor assembly line in 1983, they were quickly embraced by families and then by enterprising small business owners, the latter group recognizing how well the minivan could be adapted to meet the unique requirements of business.
Thirty years later, the Chrysler Group continues to lead the very segment it created. In 2012, the Dodge Grand Caravan was the top-selling minivan in the world, and combined with the Chrysler Town & Country, it accounted for nearly half of all minivan sales in the United States. Business owners know how difficult—and therefore how remarkable—it is to achieve that kind of market success. Believe us when we tell you, we don't take it for granted.
Chrysler Group LLC is ever on the lookout for ways to improve the driving experience. The pursuit of perfection, particularly with regard to minivans, has led to 78 minivan firsts, including one feature especially conducive to the needs of small business—the class-exclusive Stow 'n Go® seating. Other Dodge Grand Caravan features of interest to the owners of small businesses include:
More than 55 standard and available safety, security and technology features, including seven standard airbags
Uconnect® hands-free group with Bluetooth® voice command, Bluetooth streaming audio and one year of SiriusXM® satellite radio
A 3.6-liter Pentastar® V-6 engine, capable of up to 25 mpg highway or up to 500 miles per tank
As a final note, we're pleased to report that a Dodge Grand Caravan 30th Anniversary Edition will soon be available. To learn more about its unique appointments and commemorative badging, visit the Dodge website. To see the incentives available to small business owners interested in employing 30 years of minivan innovation, please visit the Chrysler Commercial vehicles website.