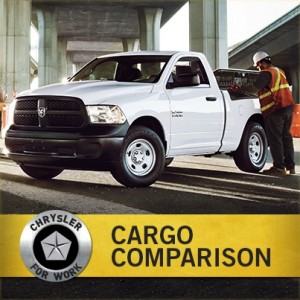 In the world of small business, the art of estimation comes in handy. While it's impossible to calculate beyond the shadow of a doubt what profits will be in a future quarter, or how much product will sell on a particular weekend, or how many potential new clients will walk through the door on any given day, one can make surprisingly accurate predictions based solely on available information, previous experience and, let's face it, pure gut feeling.
Chrysler Commercial Vehicles wants to know: How educated are your guesses?
Introducing Cargo Comparison, a sweepstakes and guessing game where players have one job: Guess how many of an industry-related product can fit in the trunk or cargo area of a series of Chrysler Group Vehicles, from the Ram 1500 to the Chrysler 200 to the Dodge Durango. Correct, or rather, approximate answers will win you bragging rights among your friends. All answers, regardless of proximity to the correct one, will be rewarded with an entry in the Cargo Comparison Sweepstakes.
Sweepstakes prizes include six $250 prepaid Visa gift cards (one per game phase) as well as a variety of Chrysler Commercial Vehicles-branded merchandise.
To enter, visit the Cargo Comparison tab on the Chrysler Commercial Vehicles Facebook page. Enter once per day (but only once per day) to improve your odds of winning. Additionally, entries may be earned by visiting the Chrysler Commercial Vehicles kiosk at one of the national trade shows we are attending this fall.
Guess well and good luck!