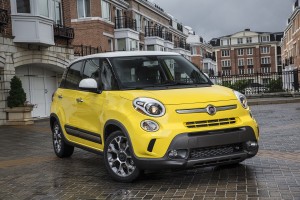 Any real estate agent can tell you that for every buyer there is a perfect number—the perfect listing price, the perfect first/final offer, the perfect street address, the perfect zip code and so on. This is true for the world of cars as well. In other words, when it comes to purchasing a new vehicle, there is a magic number for everyone. For realtors, that number is 500, as in $500 off a new FIAT 500L.
$500 Cash Allowance for Realtors®
The Chrysler Group LLC and National Association of Realtors® (NAR) have partnered to offer NAR members a $500 cash allowance toward the purchase or lease of select 2013/2014 Chrysler, Dodge, Jeep and Ram models. Also included on the list of eligible vehicles is the new 2014 FIAT 500L, the features of which are listed below.
This special $500 cash allowance is available to NAR members and staff at the national, state and local associations or boards of Realtors, and immediate family members living in the same household. The incentive comes in addition to a two-year no-cost service agreement with eight courtesy oil changes beginning with purchase or lease. Please visit the Realtor Benefits page at Realtor.com for more information on how to take advantage of this incentive.
The FIAT 500L: The Right Car for Realtors®
The FIAT 500L is a four-door vehicle that takes all the style of standard-sized FIAT 500s and adds to it with a little something extra—space. With 42% more interior space and two more doors than its counterparts in the FIAT lineup, yet with all the same design and performance perks, the 500L is able to meet a realtor's need on several different levels. Here are a few select performance-related bragging points:
Standard 1.4L MultiAir turbo engine with 160 horsepower and 184 lb-ft torque
Six-speed manual transmission with hill-start assist
EPA-estimated 25 city/33 highway MPG and 13.2-gallon fuel tank for up to 435 miles of highway driving range*
To learn more about the FIAT 500L, please visit fiatusa.com. To view available vehicle incentives, visit the BusinessLink® page at ChryslerCommercialVehicles.com.
*Based on manufacturer's estimates of 33 highway MPG and 13.2-gallon fuel tank. Actual mileage may vary.