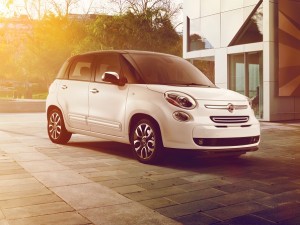 The 2014 FIAT® 500L is currently the featured vehicle in our Cargo Comparison sweepstakes. Visit the Chrysler For Work Facebook page to enter for your chance to win great prizes, including a $250 prepaid Visa gift card. Just be sure to read all about the FIAT 500L before you go!
The term "small business" makes sense when companies are categorized according to staff numbers or total volume of yearly sales. But the moment you begin considering other indicators—the long hours owner and employees put in, the passion they feel for their work, the enormous impact the business has on the everyday lives of all involved—it becomes clear just how relative, even erroneous, the term "small business" truly is.
To put it another way, the physical size of something, whether it's a business, a vehicle or anything else, relates not at all to the enormity of heart that may be contained within it. For an example we need look no further than the 2014 FIAT 500L.
Dimensionally speaking, the FIAT 500L is not in the same weight class as the Ram 1500 or Dodge Durango. Yet just like any vehicle bearing a Ram Trucks, Jeep, Dodge or Chrysler nameplate, the 500L is big on heart, a capable vehicle for work, sporty (thanks to classic FIAT styling) yet surprisingly spacious, with seating for five and 42% more interior room than its two-door counterparts in the FIAT lineup.
Apart from its spaciousness, the FIAT 500L can boast a number of other performance features, including a standard 1.4L MultiAir Turbo engine with 160 horsepower and 184 lb-ft torque, a six-speed manual transmission with hill-start assist and an EPA-estimated 25 city/33 highway MPG. Combine all that with a 13.2-gallon fuel tank and the 500L can travel up to 435 miles on a single tank of gas.
Remember, the Chrysler Group LLC and National Association of Realtors® (NAR) have partnered to offer NAR members a $500 cash allowance toward the purchase or lease of select 2013/2014 Chrysler, Dodge, Jeep and Ram models. Also included on the list of eligible vehicles is the new 2014 FIAT 500L.