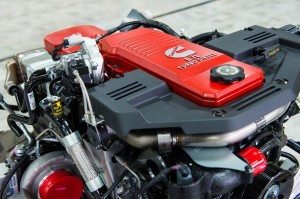 The new 2014 Ram EcoDiesel and the Cummins® Turbo Diesel are part of a family tradition of powerful and dependable Ram Trucks engines. No matter the task at hand, these diesel engines stand behind small business owners to perform when performance is needed most.
3.0 Liter EcoDiesel V6 Engine
When it comes to the new 2014 Ram 1500 EcoDiesel, there is not a competitor in sight. The 3 liter EcoDiesel boasts a best-in-class fuel economy of better than an estimated 25 miles per gallon, and also has a best-in-class tow rating of 9,300 pounds, topping all base V6 engines in the segment—approaching large V8 capability with 53 percent of the displacement.
How does EcoDiesel achieve this tow rating? Ram Trucks powertrain engineers modified the transmission parking lock inside the exclusive eight-speed TorqueFlite 8 for a higher load rating under hill-hold conditions, allowing for a greater tow rating. Our engineers didn't stop at towing, though. The EcoDiesel delivers a best-in-class 420 lb-ft of torque, and delivers LESS CO2 into the environment. This truck is equipped with diesel oxidation catalyst, diesel particulate filter and selective catalyst reduction, making the EcoDiesel V6 engine emissions compliant in all 50 states.
Not to mention, the EcoDiesel is B-20 BioDiesel capable, and Biofuel produces fewer air pollutants and less greenhouse gas emissions, making the EcoDiesel V6 engine the cleanest light-duty engine available.
6.7 Liter Cummins® V8 Turbo Diesel Engine
The Ram Heavy-Duty 6.7 liter Cummins® Turbo Diesel I6 is also B-20 fuel capable, while boasting 385 horsepower and a best-in-class 850 lb-ft of torque.
For the hardest jobs, Ram Trucks with the Cummins® Turbo Diesel feature a new cooling system for improved performance and durability, and a best-in-class 15,000-mile oil-change interval will allow you to focus on the task at hand while knowing your vehicle is in it for the long haul.
Among other highlights are the next-generation selective catalytic reduction and diesel exhaust fluid system with a range of up to 4,000 miles between refills, as well as the dual fuel filtration system for enhanced reliability and durability in virtually every climate and environment. And if all that's not enough, this engine offers an unsurpassed powertrain warranty—five years/100,000 miles.
How do you know which of these highly capable engines is the right choice for you? Your closest BusinessLink® dealer will be happy to discuss the benefits of each powertrain relative to the business that you're in.
Special Note: The above photo is from the RamZone blog post celebrating the two millionth Cummins engine to go in a Ram Truck.