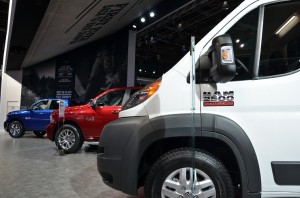 As an entrepreneur, you understand that trade shows—as a place to discover new products and to meet potential customers, partners or vendors—are essential to growing your business.
As an automaker, we understand their value as well (for all the same reasons!), which is why we attend several events throughout the year, from the GIE+EXPO to the Remodeling Show to the annual REALTORS® Conference and, most recently, the North American International Auto Show (NAIAS) in downtown Detroit.
As one of the largest car shows in the world, the NAIAS (now in its 25th year) attracts journalists, industry experts and consumers from around the globe. No doubt it also attracts a number of savvy small business owners, all of whom are on the lookout for the next great vehicle to meet the needs of their businesses.
Check out the Chrysler Group NAIAS display featuring all of your favorite work vehicles. This year's show is open to the public until January 26, 2014.