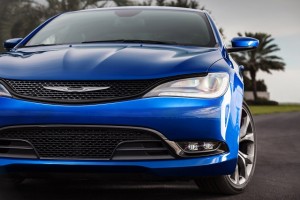 Thanks to an ever-evolving and diverse vehicle lineup, ranging from the award-winning Ram 1500 to the sporty yet spacious FIAT 500L, the Chrysler Group has proven time and again that it's the go-to auto manufacturer for well-made, purpose-built vehicles for work, no matter your vocation.
Now, an already impressive lineup is bolstered further with the addition of the all-new 2015 Chrysler 200, an elegant, state-of-the art midsize sedan perfectly suited for small business owners who have earned a little luxury in their life, but who demand value for their money nonetheless.
In addition to a beautiful exterior design showcasing the new "face" of the Chrysler brand, the 2015 Chrysler 200 features a thoughtful, exquisitely crafted interior and an exceptional driving experience, the latter stemming from the segment-first nine-speed automatic transmission and an Alfa Romeo-based chassis.
With the choice of two world-class engines (the available 3.6L Pentastar V6 engine or the 2.4L MultiAir® 2 Tigershark I-4 engine), an innovative all-wheel-drive system, available sport mode and paddle shifters, the all-new Chrysler 200 makes spending the day in your vehicle visiting accounts or clients around town not only a welcome experience, but a comfortable and productive one as well.
"The all-new 2015 Chrysler 200 will be the new benchmark for midsize sedans with an exceptional driving experience, fuel economy of up to 35 mpg highway and exquisite craftsmanship," said Al Gardner, President and CEO — Chrysler Brand, Chrysler Group LLC.  "The all-new Chrysler 200 lays the groundwork for the future of the Chrysler Brand with a timeless, elegant design, clever functionality, a standard nine-speed automatic transmission, a class-leading all-wheel-drive system, more than 60 safety and security features, and new technology drivers and passengers will value."
The 2015 Chrysler 200 is designed, engineered and built with pride in Michigan. With a major investment of more than $1 billion, Chrysler Group's Sterling Heights Assembly Plant, once slated for closure, sports an all-new paint shop using leading-edge technology, a new, fully robotic body shop and an upgraded assembly area, setting the stage for the world-class craftsmanship found in the all-new Chrysler 200.
Check back to The Working Blog for more on the 2015 Chrysler 200, including information on availability and specific product features. In the meantime, enjoy this replay of the vehicle's official unveiling on the floor of the North American International Auto Show in downtown Detroit.