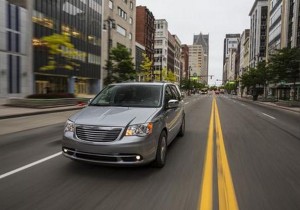 Retaining customers in a competitive marketplace is one of the biggest challenges for anyone in business, from the largest auto manufacturers to smallest mom-and-pops on Main Street. To secure even a single customer's repeat business is a small but significant sign that you are doing something right. This is why we were humbled recently to learn that Chrysler Group LLC was the recipient of five automotive loyalty awards from Polk Automotive.
The Polk Automotive Loyalty Award recognizes manufacturers for superior owner loyalty performance, which is determined when a household that owns a new vehicle returns to market and purchases or leases another new vehicle of the same model or make. The 2013 awards were based on an analysis of more than 7.4 million vehicle owners who bought new vehicles again during the 2013 model year.
The five Chrysler Group vehicles awarded a 2013 Polk Automotive Loyalty Award include:
"Chrysler Group's emphasis on owner loyalty across their lineup is an indicator that the organization is truly working with consumers to bring them back," said Jeffrey Anderson, director of loyalty and source of sales solutions at Southfield, Mich.-based IHS Automotive, a division of research and analytics firm IHS. "To see five awards across multiple segments is impressive, and Town & Country's run is unprecedented."
We understand that you have many options when you return to market for a new work vehicle. That's why, as an automotive manufacturer, we never rest on our laurels, but work continuously to deliver the functionality and quality craftsmanship that small-business owners like you deserve.
"Winning five Polk Automotive Loyalty Awards is proof-positive of Chrysler Group's drive to build the best vehicles on the market," said Reid Bigland, head of U.S. sales, Chrysler Group LLC. "Customers will only come back if they trust their vehicles to deliver flawless quality and reliability, and these awards speak volumes about Chrysler Group's extensive vehicle lineup."
Have you contributed to one of our five Polk Awards by purchasing a Chrysler commercial vehicle in 2013? Let us know which vehicle in the comments below.