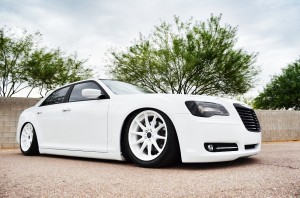 In some industries, the reason for upfitting a work vehicle is obvious (you can't plow snow without a snowplow, after all). In other industries – let's use the example of real estate – the reason for customizing, say, a Chrysler 300, may be less apparent, though no less important to the job.
Today on The Working Blog we meet Oriana Schooley, a real estate agent from Arizona whose customized Chrysler 300 helps her build rapport with potential homebuyers. Not only is Oriana a businesswoman, she also holds the title of Chrysler Custom Challenge Champion, an honor given to her early this year by the Chrysler Brand.
The Chrysler Custom Challenge tasked fans with entering their customized Chrysler vehicles for a chance to show their car off at the 2014 Specialty Equipment Market Association (SEMA) Show, a trip to the 2014 North American International Auto Show, and over $15,000 in cash and prizes. What Oriana didn't know is that she would receive the keys to an all-new 2015 Chrysler 200.
Oriana sat down to talk with us about how she leverages her customized Chrysler 300 to increase sales and how she plans to use her new Chrysler 200 in the future.
The Working Blog (TWB): How do you use your customized 300 for business?
Oriana Schooley: I take potential buyers on tours throughout the community that I sell in.
TWB:  How does your customized Chrysler 300 help boost your bottom line?
Oriana: It has proven to be true that if you can find an interest in common outside of what you hope to accomplish (selling them a home) the rapport can be built and a friendship struck. I truly believe that people buy homes from people they like. When you show homes to a couple, the women typically get caught up in the interior and designer touches, whereas men usually feel like they are being "sold." With my car out in the parking lot, most men will ask me if it's mine (I always smile when that happens because I know it's working), which is when we begin talking about something he's comfortable with. I prove that I can hold my own for long enough. That usually impresses him and leads to a deeper appreciation – once that happens, it's easy to transition into the home and their needs.
TWB:  Can you recount an instance when your car helped you build a relationship with a client?
Oriana: I had a family come into my office and one of the first things the man said to me was "nice car." I discovered they needed to move quickly, so I offered to show them a couple of our completed homes that would be available in 30 days. His response was, "I'll only look if you take me in your car" and that's exactly what I did. They ended up buying the house the next day, but not before the man asked me if I would throw in my car to seal the deal.
They received the keys to their house 30 days later, and they couldn't have been be more excited – that is, until the following weekend, when he pulled into my office to show off his brand-new Chrysler 300C. It was the best feeling to have connected, to the point where he not only trusted me to provide his family their new home, but then to love my car so much that he went out and bought one of his own.
TWB:  As the winner of the Chrysler Custom Challenge, you won a one-year lease on the all-new 2015 Chrysler 200. What aspects of the all-new Chrysler 200 do you think will be useful for real estate professionals?
Oriana: The functionality of the 2015 Chrysler 200 is perfect for someone in the real estate business who, like me, utilizes their car as a mobile office. Everything is at your fingertips. The large touch screen can help you navigate between appointments, and the hands-free phone feature will definitely come in handy. It's a comfortable ride for five people. It's classy and sophisticated while being a fun ride and something you will be proud to drive clients around town in.
Thank you for sharing your story with us, Oriana!
Has there been an instance in your career when your Chrysler commercial vehicle helped you build a relationship with a client? If so, we'd love for you to share it with us in the comments below.