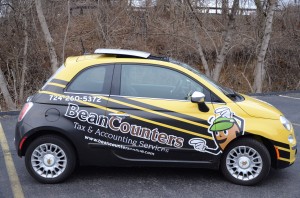 Tax season can be a stressful time for small business owners. To alleviate some of that stress, many people look to hire a specialized accountant like Joshua Jones, a man who knows first-hand what matters most to small business owners because he is one! Josh and his wife Kelly own and operate BeanCounters, a full-service accounting and CPA firm in McMurray, Pennsylvania, that specializes in taxation for small businesses and individuals and also provides full-service payroll services for small businesses.
After filing taxes for eight years, Josh knows that the work vehicle you choose and its overall cost of ownership can significantly impact your tax return. That's why he and Kelly selected the fuel-efficient FIAT® 500 as their work vehicle of choice.
The Chrysler For Work Blog had the chance to sit down with Josh and learn more about his small business and his one-of-a-kind FIAT 500.
The Chrysler For Work Blog (CFW):  What made you want to become a small business owner?
Joshua Jones (JJ): Kelly and I met in public accounting at KPMG where we serviced some of the largest companies in the world.  The problem with this work was that it was impersonal and we didn't get the job satisfaction that we get from working with small business owners. We started BeanCounters to help small business owners, and we started our payroll service because we noticed that small business owners were often dissatisfied and underserved by the national payroll providers. Our payroll clients love us and are amazed by our hands-on approach to payroll.  We offer flexible payroll solutions and provide excellent customer support that really sets us apart from our competition.
CFW: When you began the process of looking for a work vehicle, what were your "must-have" features?
JJ: We travel quite a bit for business, and we were looking for an eye-catching vehicle with great gas mileage. We also liked the features that the FIAT 500 offered for the price. We knew that we wanted to wrap the vehicle, and as soon as we saw the FIAT 500, we knew that it would look great wrapped.
CFW: There's a wide variety of vehicles on the market. What was it that made you choose the FIAT 500?
JJ: We test drove the FIAT 500 and instantly fell in love. The FIAT 500 rides nicely on the road and has a decent amount of power for a small vehicle. It also gets great gas mileage, and it stands out. We wanted a vehicle that is fun to drive, stylish and fuel efficient, and the FIAT 500 met all those needs. The heated leather seats and back-up sensors are added luxury touches that we appreciate. We never worry about getting a parking space when we park in town or have to parallel park. The FIAT 500 fits in small spaces and saves us money by letting us avoid the parking garage, as we can usually find a spot at a parking meter just big enough for the FIAT 500.
CFW:   What types of attention does the BeanCounters FIAT 500 get? Have you found it to be good marketing for your business?
JJ: A lot of people point at our car when we drive around. Oftentimes, friends and family will see our car and let us know about it by taking a picture and sending it to us. Potential customers see our car and call, based on seeing the FIAT 500 around town. It has helped us as part of our marketing strategy. People stop us all of the time and ask how we like the FIAT 500, or they stop us and say they like our business name. We parked our car at the grocery store, and someone followed us into the store to ask us about our business and became a great referral resource for our business.
Thanks for sharing your story with us, Josh!
To learn more about how the FIAT 500 can work for your small business, contact your local Chrysler BusinessLink® dealer.