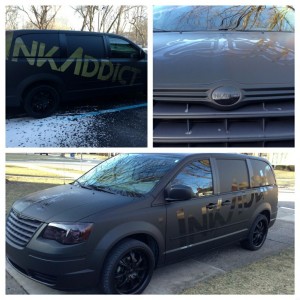 Being a small business owner is an art form that requires creativity and dedication in order to produce a masterpiece.
In 2007, friends Jim Doyon and Nathan Martin had a creative vision for InkAddict, a clothing business that the two have successfully built into a global tattoo lifestyle brand. As their business grew, so did the need for a reliable work vehicle. They chose the Chrysler Town & Country Minivan as their canvas and incorporated an eye-catching design that projects their brand's edgy image and breaks the minivan mold.
The Chrysler For Work Blog met up with co-owner Jim Doyon at the InkAddict headquarters in Ferndale, Michigan, to get the scoop on his journey to becoming a small business owner and this one-of-a-kind minivan.
The Chrysler For Work Blog (CWB): Can you tell us about your company, InkAddict?
Jim Doyon (JD): InkAddict consists of a diverse coalition of innovative entrepreneurs, influential tattoo artists and dedicated team members whose unique collaboration and commitment delivers high-quality, fashion-forward product lines.
We don't just sell a product; we are encompassed in the tattoo culture. We promote and work with professional tattoo artists from around the globe. Through the artist's designs and our in-house designers, we produce quality apparel for an audience who believes and lives the tattoo lifestyle. From tees to sweatshirts, leggings and socks, InkAddict is sure to carry a product that appeals to the tattoo lover.
CWB: What does InkAddict the "Tattoo Lifestyle Brand" represent?
JD: InkAddict is a brand devoted to the tattoo enthusiast—the fan who surfs right past the Golf channel to watch extreme sports. You know, the fan who loves seeing bands at shows way more than at concerts. You know, the person who supports local music in Detroit one night and then again in Cleveland the next. "Detroit" can be any city—your city; "Cleveland" is whatever city is the next night. The city changes; the enthusiast doesn't. Always an ink addict.
CWB: What made you want to become a small business owner?
JD: Becoming a small business owner came naturally with the progression of our business. We were doing something we loved. It started small, and we took some tremendous risks. But fortunately our fans really enjoy what we do and support us, and that has given us the ability to do this for a living.
CWB: When you began the process of looking for a work vehicle, what were your must-have features?
JD: We travel the country driving from convention to convention. We needed something reliable, roomy and comfortable. A vehicle with good gas mileage was also very important. The Chrysler Town and Country has it all.
CWB: There's a wide variety of vehicles on the market. What was it that made you choose the Chrysler Town & Country?
JD: We were set on getting a minivan and fixing it up. We thought the Town & Country looked the most stylish out of that class of vehicles. But what really sold us were the fold-down seats. So depending on how much product we are hauling around, we can adjust the seats on the go. It has been a great feature for us.
CWB: You've done an excellent job of branding your vehicle. Can you tell us how you came up with the concept for the van's design and the type of customizations you've made to it?
JD: Everything we do we try to make clean and simple. So blacking out the van just seemed to fit us best. We worked with our friends at Ice Nine Group here in Michigan who helped us to put some really cool touches on it.
The van is completely blacked out in a matte black wrap. The logos on the van are made of a reflective gloss black vinyl. So when you see the van during the day, it takes a minute to realize that it says InkAddict on the side of the van. When light is reflected on the van at night, "InkAddict" then appears to be white against the flat black surface.
Ice Nine Group went above and beyond with all the details on the customizations. We couldn't be happier.
Thanks for sharing your story with us, Jim!
If you are interested in turning your work vehicle into a masterpiece like Jim did, Chrysler's On The Job® incentive program will help cover the cost with a $250, $500 or $1,000 graphics allowance. To learn more visit ChryslerCommericalVehicles.com