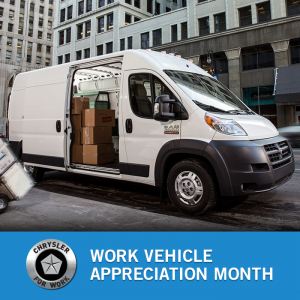 BusinessLink® is a division of the Chrysler Group LLC that supports small business owners and the hardworking vehicles they rely on. So this past March, during Work Vehicle Appreciation Month, we gave small business owners the chance to boost their ROIs.
During the promotion, fans on the Chrysler for Work Facebook page showed their support for their favorite local businesses in our gallery of small business appreciation cards and entered for a chance to win a series of prizes for their Chrysler work vehicles. Well, the results are in and the Chrysler for Work Blog is excited to present you with the list of winners.
David H. from Taylorsville, KY
Sermyra W. from Covington, GA
Jason A. from Franklin, IN
Christina S. from Jefferson, OH
Mindy S. from Garden City, MI
Susan G. from Covington, LA
Debra G. from Sun City, AZ
Ginger N. from Amarillo, TX
Donna K. from Lebanon, CT
Elaine C. from Maryland Heights, MO
Thanks to everyone who participated and showed their support for small business!
What do you appreciate most about your Chrysler, Dodge, Ram Trucks or Jeep® brand vehicle? Share with us in the comments below or send us a tweet at @ChryslerForWork.