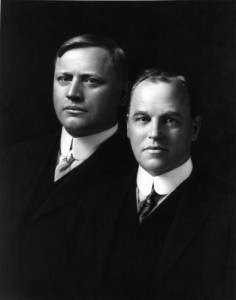 May 28 marks an important milestone in our history here at Chrysler Commercial Vehicles.  It was on this day in 1928 that Dodge Brothers Inc. — a pioneer in utility and work vehicles — became a part of the Chrysler family.
The official history of the Dodge automobile begins in 1914, but the story of the Dodge brothers in the automobile business reaches back even further. Brothers John and Horace Dodge, talented machinists and ambitious businessmen, rose from humble beginnings to become giants in the early American automobile industry.
In 1901, after several years of building bicycles and piecework components for the budding auto industry, the brothers founded a machine shop in Detroit and began producing transmissions.
In 1914, the brothers formed a new company, Dodge Brothers, Inc., capitalized with $5 million in common stock, and began building their own vehicles — the world's first mass-produced all-steel touring cars. In 1915, more than 45,000 Dodge cars were built and sold, the best first-year sales record for a new car in the industry at the time.
With their early passenger cars earning recognition for durability and value, the Dodge brothers soon began considering ways to convert their successful car platform to truck applications. During 1917, their firm began producing "commercial cars," including military ambulances and screen-sided business trucks. Panel delivery trucks, fire trucks, pickups, chassis-cabs and other models were soon offered.
During 1920, the company lost its founding fathers. John Dodge died in January, and his younger brother Horace succumbed the following December.
A New York investment banking firm paid the brothers' widows, in a single cash payment, $146 million for the Dodge Brothers firm. Within three years, the bankers initiated negotiations, and on May 28, 1928, Walter P. Chrysler purchased Dodge Brothers, Inc. for $170 million, making it, at the time, the largest business transaction in history.
When the transaction was complete, the Chrysler Corporation had grown fivefold overnight to become the third of Detroit's "Big Three" automakers.
The Chrysler Group continues to honor the hardworking spirit of the Dodge brothers over a century later, producing reliable vehicles that utilize 21st-century technology to meet the needs of small business owners.