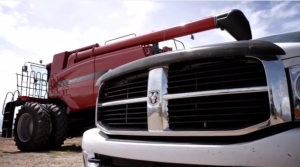 Here at The Chrysler for Work Blog, we spend a lot of time getting to know hardworking small business owners and entrepreneurs from all around the country. We have turned some of our conversations into a video series we call Real People, Real Business, which sheds light on the incredible impact that these people have on communities and on our nation as a whole.
Today's edition of Real People, Real Business features Fred Titensor of Valley Implement Company. His third-generation business, started by his great-grandfather, relies heavily on the famous Ram Truck dependability and fuel economy to meet the needs of his customers. Valley Implement Company's array of four-wheel-drive, two-wheel-drive, diesel and gas trucks pack the ability to tow their massive farm equipment up and down mountain passes with ease and comfort, answering the call of agriculturists in Utah, Idaho and Wyoming.
Watch the video to see Fred and his team putting their Ram trucks to the test on this episode of Real People, Real Business.
Do you use a Chrysler, Dodge, Ram Trucks or Jeep® brand vehicle for your small business? We would love to hear your story. Share it with us in the comments section below, or, better yet, post a photo of your work vehicle on the Chrysler for Work Facebook page, and you might just be our next Real People, Real Business story.