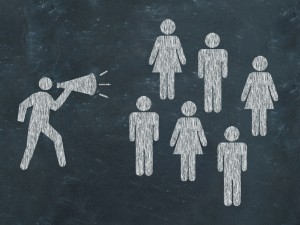 As of June 2013, there were 1.32 billion users on Facebook, and approximately 70% of those active users in the U.S. and Canada were connected to a local business.
However, you may or may not have not gotten the memo that Facebook recently decreased the percentage of fans businesses and brands can reach organically to only 16%. That means that in order to be seen and heard among the ever-evolving Facebook landscape, you'll likely need to dip into your advertising dollars.
Facebook ads allow you to set your budget and amplify content to better reach your fans. Facebook ads appear as posts on a fan page but get additional paid distribution among fans, friends of fans, or non-fans within their News Feed or the right sidebar.
Facebook ads allow you to
Work toward your overall advertising goals. When you begin to create your ad, you will be prompted to choose which of the following eight objectives you would like your ad to achieve.
Choose where your content will be seen. Your ad can appear within someone's News Feed or on the right-hand column next to the feed. Typically, News Feed ads get higher engagement since they are intermixed with content from their friends. Just note that when you place your post in the News Feed, Facebook requires you to include a link back to your Facebook page.
Desktop/Mobile News Feed                                                      Right Column
Choose who will see your ad (the broader your audience, the more expensive it becomes). You can target your ad to specific users according to where they live, and you can even pinpoint their interests and behaviors. As a small business, you should start by targeting users in your immediate community.
Set your budget. You can spend as little as $5.00 or as much as you'd wish on a Facebook ad. How much should your business spend? Well, consider the value you would put on a new Facebook fan or how much you are willing to spend in order to increase traffic to your business's website. It's always a good idea to start off small and work your way up as you become more confident.
Track your progress. You can monitor the ad's performance in the Ads Manager dashboard, which lets you see a range of data, including how many people clicked your link and how many likes you've received because of your ad.
If you rely on Facebook as large part of your marketing strategy, then advertising is vital to your success. Not only do ads spark word-of-mouth (the most effective marketing), but they help you to get the right messages out to the right people.
Are you using Facebook ads? Have you found them to be successful — or not so much? Tell us in the comments below.