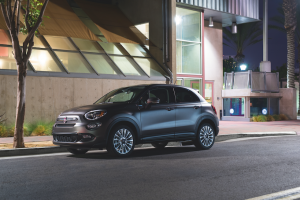 Here's a work vehicle with a little something extra.
Introducing the All-New 2016 FIAT® 500X, a beefed-up version of the classic FIAT vehicles you've come to know and love. With one eye on tradition and the other on the future, this new vehicle offers the very best of the FIAT brand—iconic styling, functionality, safety, comfort and convenience—in a larger, ultra-capable package, making it a terrific vehicle for work.
Please watch the highlight video below to learn more about the All-New 2016 FIAT 500X, including its all-wheel-drive capabilities (a first for the FIAT brand). For information on how this and other FIAT brand vehicles can meet your small-business needs, please stop by your nearest FIAT studio.