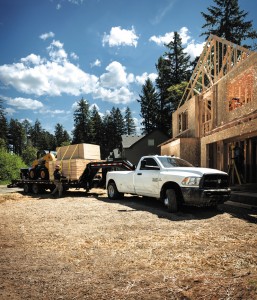 Determining the needs of your business is crucial when choosing a commercial-grade truck that will have strong, long-term value. You need a truck that you can depend on for the long haul and can handle anything your business throws at it, but what features you need will depend on what type of business you run. Features like four-wheel drive may be necessary for a grading contractor who regularly uses a vehicle on rugged construction sites. On the other hand, a delivery business that logs mostly highway miles may prefer the efficiency of a two-wheel-drive truck. Finding the right commercial vehicle for your business means getting the capabilities you need without going overboard on price or operating expenses.
What is torque?
One of the important factors that commercial truck shoppers should consider is engine torque. Typically expressed in pound-feet, torque is a measure of engine output, specifically, the rotational force an engine can exert at a given speed. Put simply, a vehicle with more torque can do more work.
Horsepower is another measure of engine output, often mentioned alongside torque. It's a more important factor for performance vehicles like sports cars, though, because it measures an engine's ability to produce torque quickly. For commercial-grade trucks, the capability to pull or haul heavy loads is more important than quick acceleration.
Why do trucks need plenty of torque?
Towing and hauling are the main reasons why torque is an important consideration for commercial-grade truck shoppers. Regardless of the style of vehicle your business needs — pickup, van or chassis cab — be sure to choose an engine that offers enough torque to get the job done.
The more torque you have, the easier it will be to carry heavy loads or pull a big trailer. Ample torque at low engine speeds allows a heavy-laden truck to start from a standstill more effortlessly and efficiently. Torque also helps a burdened vehicle make a long, steady climb uphill without struggling. On the highway, sufficient torque is essential to drivers hauling heavy loads who still demand good fuel economy.
Simply put, work trucks need the attributes of a tugboat, not a speedboat. Getting somewhere quickly is meaningless without the tools, equipment or cargo that your business needs.
Diesel: The best choice for high torque?
Gasoline engines are more capable than ever, but diesels still offer the most torque relative to engine size and fuel economy. Take the 2015 Ram ProMaster® van, for example. With a standard gasoline Pentastar V6, it makes a respectable 260 lb-ft torque at 4,175 RPM. With the EcoDiesel 4-cylinder engine though, drivers get considerably more torque delivered low in the rev range: 295 lb-ft at just 1,400 RPM.
The torque of the EcoDiesel translates to a 1,000 lb towing for the EcoDiesel engine-powered ProMaster. The Ram 1500 pickup is the only light-duty full-size pickup with a diesel engine offering a fuel economy of up to 28 mpg highway. It also offers a similar advantage in towing capacity, with up to 9,200 lbs.
Determining your needs
Not all jobs are equal, so small business owners' needs are unique depending on the nature of their work. A landscaper with two mowers and a few hand tools on a single-axle trailer can shop for a lighter, more fuel-efficient vehicle. If you're pulling a tractor on a gooseneck trailer, however, a heavy-duty truck may be the wise choice. Be sure to think about your specific needs before taking a test drive, and find a commercial vehicle with the right features — including enough torque — to handle your job.