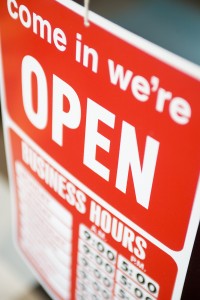 Setting the hours of operation for your small business might not seem crucial at first, but it greatly affects your ability to attract and keep customers — and maintain a level of personal happiness.
"Business hours should coincide with customer/client schedules," according to SCORE Dallas. "Suitable hours of operation today could mean greater business success tomorrow."
Flexibility
One of the best things about owning a small business is the flexibility you have in choosing business hours and running your business any way you want in order to accomplish your goals.
Who says you have to keep regular 9-to-5 business hours? Scheduling needs can vary according to the industry you're in, so operating hours for a delivery outfit might be totally different from those of a construction cleanup service, a plumbing company or a landscaping business.
Joseph Varga, owner of Joe's Metal Recycling in Los Angeles' South Bay area, put a lot of thought into choosing business hours. When he was just getting his business started, Varga asked everyone he knew what they thought his business hours should be.
He also asked others in the same industry when the most effective hours of operation would be, handed out surveys to potential customers, brainstormed with his crew members and coordinated his planned hours of operation with his family.
"I got a lot of feedback, and based on that I decided on a split schedule" that starts in the early morning, runs until 1 p.m., then runs again from 6 to 10 p.m., says Varga. "I was surprised when a lot of the people thanked me for asking their opinion. They said I was the first business they knew that did that."
A few guidelines
Small Biz Survival offers a few easy guidelines for choosing business hours:
Set a schedule that is easy to read and understand, then follow it religiously.
Be sure to advertise your business hours — including special hours, like holidays — through all the media you use, including newspapers, magazines, radio, television, your business website and social media.
Operate in ways that are best for your customers and yourself.
The bottom line is that choosing business hours may well be about best meeting the needs of your customers, but it's also about making you money while still allowing yourself to have a fulfilling life with your family and friends. And wasn't that why you started your business in the first place?