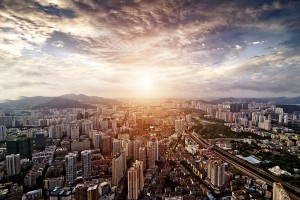 One of the biggest jobs you have when you run your own company is finding ways to make your business more visible — to make your products or services stand out from your competitors.
Of course, advertising — whether in the newspaper, on the radio or online — plays a big part in that equation. But even the best ad in the world won't see instant results. It takes an ongoing effort, using different approaches, to keep your business' name in the minds of potential customers.
Benjamin Ruiz learned that lesson the hard way when he sunk nearly $800 dollars into getting the word out about his new car repair business, Ruiz Auto Repair, in a neighborhood just east of downtown Los Angeles.
Ruiz says he bought a half-page ad in the local weekly newspaper, which ran for four weeks. But in the end, only two of his customers said they had called him because of the ad.
"Man, that was a letdown," he says. "I really thought it would get us going, start making new customers. But, no, it was a waste, and I'll never do that again."
On the other hand, Joe Muniz, who runs Instant Replay, a used sports equipment store in the same area, bought a similar ad for four weeks — but mentioned a contest in the ad.
"In the ad, I said to look for the funny guy walking down the street in our community, wearing this really crazy hat I made out of a deflated basketball," Muniz says. "If people came up to me and mentioned the ad, I'd give them a coupon for 10 percent off anything in my inventory. My business almost doubled after a couple weeks, and foot traffic into the store has been steadily increasing ever since.
"It worked so well, I'm still running the ad."
The Small Business Can website offers several other ways to make your business more visible with a small budget, including an approach Muniz learned early on — promotional items and company gifts. Distributing good promotional products helps build a positive company image and definitely keeps your name in people's minds.
Giving something free to your customers and potential customers — such as pens, key chains, coffee mugs or hats with your business logo and contact information — will develop a feeling of goodwill. After all, who doesn't like getting free stuff? It's a win for both you and your customers.
To become more visible as a business, you need to create a strong image in your place of business and also in the places you go in your personal life, leaving a lasting, positive impression on the people around you.