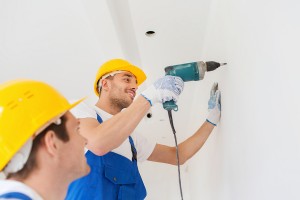 Establishing a successful business is a huge accomplishment. Only the right mix of employees and clients, plus strong management, will get the job done. Even if you run a roofing company with five employees, turning a profit every month is a victory. Territory expansion could put everything you have built in danger, if you aren't ready for it. Here are the signs you're ready to take on more work.
Your operation has no holes
Steady profits, happy employees and returning clients are proof you have a successful operation. Whether you started out with a cousin doing electrical work or took over a small construction team, there's never any guarantee that a company will survive.
Maybe that success isn't worth jeopardizing. According to Entrepreneur, most contractors who run into financial trouble have their biggest problems after expanding. Before you consider bigger jobs or a new neighborhood, your company has to be rock-solid. That means profits are growing every year rather than staying the same.
Delegating doesn't scare you
Expanding makes sense only when you're comfortable delegating to other employees. You cannot meet with a client in your office and supervise work across town at the same time. If you are no longer managing your team, you have to trust that your manager will get the job done and your employees will respect his authority.
Does your manager share the same values and goals as you? This question is important when you send a supervisor out to represent your company. If new projects fail, the financial loss could lead to larger failures for the business. Make sure you trust your team to be independent and honorable when they're outside your supervision.
You know the risks of territory expansion
Moving into a new area introduces many risks. On the one hand, you have the opportunity to get more work and prove to new clients that you are the right choice for their business. However, this effort involves new expenses. Your crew will have to drive farther to reach new jobs, creating higher fuel costs and increasing the amount of time you pay employees. Even with an eco-friendly V6 diesel engine, the extra miles can add up at the pump.
Other problems can arise with your workers traveling longer and working longer hours. You have to make a great impression on new employees when you're expanding your business. Maybe you'll need to open a second office and hire your next group of workers in the new area, so your crew stays fresh on the job.
Before you decide that territory expansion is the right move for your business, look at the full picture. If you decide you're ready, enter the new market prepared.