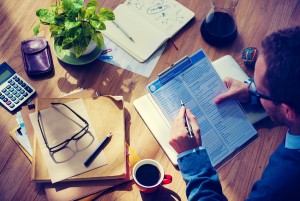 Your business may be small — perhaps it's even just you, your truck and your home office. But even if you typically send off business emails or make business calls at the family table, it's still important to register as a business.
Benefits for minority business owners
According to the Small Business Administration, once you register as a business, and as your company grows, you will have access to an expanding list of benefits available not only for small business owners but also for minority-owned businesses.
Small business support programs — particularly those aimed at minority owners — and other resources in both the public and private sectors won't even talk to you without proof of registration. But, armed with the right paperwork, you can learn about and apply for specific tax breaks and credits, business loans, government grants and work contracts.
As a registered business, you will be able to gain access to discounts for business supplies and other equipment, human resources management, financial services (for example, accounting) and help with advertising — all tools that could prove important to you and your business' ability to expand, or just run effectively. Depending on where you live, registering can also give you access to a local Minority Business Development Agency or a Small Business Development Center, both of which provide a wide range of business services and advice.
Other benefits of registering
Besides all the resources you'll have access to, registering your business also opens you up to new opportunities for growth. Jose Tellez, an outdoor landscaper, grew from a one-man operation with mostly middle-class clients in East Los Angeles to a 10-person company that serves high-end homes in LA's Westside, including the exclusive neighborhoods of Bel Air and Beverly Hills. He explains that he didn't have any problems being unregistered until an enthusiastic customer referred him to who eventually became his first client in Beverly Hills, who asked to see his business license and proof of liability insurance.
Without registering as a business, Tellez says, he wouldn't be nearly as successful as he is now.
As detailed in the Houston Chronicle, registering your business with the state and local governments also helps you do things like the following:
Remain in good standing with authorities
Open business bank accounts, which let you separate your personal and business income and expenses
Get loans, since lenders and potential investors will need to see your business registration and other related information before approving you for a loan
Build and keep a positive reputation with your customers, who will need assurances that you are a dependable outfit and not a "fly-by-night" company
Establish relationships with other businesses, like suppliers, who also need to see that you run a legitimate operation
Keep your business operating if you become ill or die, maintaining what could be the only source of revenue your family has coming in
Though in the beginning it may feel like an unnecessary hassle, registering your business is an important step in keeping your operations running smoothly, and the benefits will far outweigh any initial inconveniences.