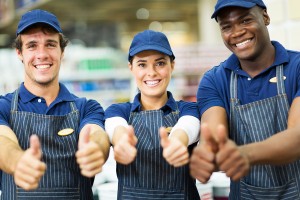 When you think of employee uniforms, chances are good that you picture someone behind the counter at a fast-food restaurant, at the auto repair shop in coveralls or doing landscaping work in a solid-color shirt with a logo. With the trend toward a more casual workplace, there aren't many businesses that still use uniforms. However, that doesn't mean you should automatically rule them out. The trick is finding a way to blend durability with a professional style, to show the pride you take in your work and your business.
Here are some of the pros of requiring employee uniforms:
Unity in branding: When everyone on your team, including your employees and family, wears the same outfit, you reinforce your company's image. It's clear who works for you and who doesn't. It's like flying your country's flag on your truck or on your porch — it brings people together.
Professional image: Having a unified look elevates the overall impression you give your customers and makes it clear that you take pride in your company. Customers want to do business with entrepreneurs who care about every aspect of their business, down to the clothes their team wears.
Team-building: Wearing a uniform can foster a sense of belonging and pride in employees. They become invested. They're part of your family and they're happy to show it.
Fostering customer trust: Especially with service businesses, customers feel more comfortable allowing workers into their homes when it's clear who they work for. A uniform tells them immediately.
Advertising: Even when your employees are working with customers off-site, people see your logo and company name. That helps get your company name out into the community.
Of course, there are reasons that employee uniforms are less popular than they once were. Here are some of the reasons uniforms may not be a good fit for your company:
Restricting personal choice: The truth is, no one likes being told what to wear to work. Some companies that require a uniform may find it harder to find qualified job applicants. One compromise is to establish a dress code instead of having a full uniform.
Added expense: Providing uniforms for all employees can be costly, and in some cases, according to the United States Department of Labor, you can't require that employees pay for them. Renting uniforms may be one solution.
Comfort: In many cases, employees find uniforms uncomfortable. Maybe they don't fit well, or they're too hot during the warm months. Asking for employee input first is one possible way to find a workaround.
Employee uniforms can be a great way to show pride for your business, to advertise your services and to present a professional image. You can do that by buying custom uniforms or making your own, such as by embroidering your company's logo on shirts or hats. The good news is that you have the freedom to decide for yourself what your employee uniform should look like.