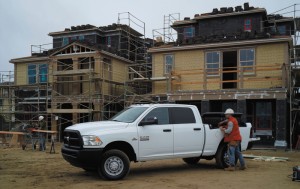 You spend a lot of time in your truck, whether you're heading to job sites during the week or running errands on the weekend. That means that having the right truck is important, since you'll want it to fit you like a glove and handle every possible situation. But it isn't always easy to find the perfect truck, thanks to the wide array of new models, cab sizes, bed lengths and powertrains that fill the market. To help you pick the best truck, here are several must-have features for any commercial-grade, workhorse pickup. Make sure your next truck includes these items, and you'll have a great pickup that delivers impressive capabilities no matter where you find yourself.
Cargo rail
A cargo rail is mounted on the inside of a pickup truck's bed, typically running from the cab to the rear of the truck. Featuring a "track" for mounting, cargo separators, bars or toolboxes inside the truck's bed, the cargo rail is an excellent feature for on-the-job drivers who need to use the bed for a wide variety of purposes.
Parking-assist technology
If you haven't spent much time in a modern heavy-duty pickup, a few minutes behind the wheel will quickly alert you to one thing: It's huge. As a result, we recommend some form of parking-assist technology — whether it's a backup camera, parking sensors that beep as you get close to an object or large trailering mirrors that help you see exactly where you're going. Features like these can keep you from the occasional scrape or bump, which will help you save money on insurance.
Power outlets
Although it's not something you might immediately think about when you're test-driving a new pickup, we suggest that you make sure your next truck includes several easily accessible power outlets. Most modern vehicles include a "cigarette lighter"-style outlet, of course, but we suggest taking things a step further and insisting on a traditional two- or three-prong outlet like you'd find in your house. You never know when it'll come in handy on a job site.
Protective bedliner
Any workhorse truck should include some sort of protective bedliner. Such a feature serves two purposes. One, it allows you to protect the truck's bed, which can otherwise get scratched, dented or downright destroyed after years — or even months — of heavy-duty use. You can go for the high-impact bedliner, which offers strong protection from virtually any heavy-duty item you might throw in back. Some bedliners also serve a second purpose: In addition to protecting the truck's bed, a quality spray-in bedliner has a coated surface that prevents important items from rolling around and being damaged.
Rear seats
Rear seats can be more important than you might think. While some pickup shoppers may not think their commercial pickup needs back seats, we suspect you'll find that they can come in handy — whether it's for transporting your work crew, carrying around your family or storing valuables inside the locked cab. Rear seats can also make a truck a lot easier to sell when the time comes to buy a new one. Admittedly, some truck shoppers won't need the added utility, or the expense — but most drivers should at least consider having back seats in their next pickup.
Although it's true that finding the right truck isn't always easy, choosing the right add-ons can be. Make sure to include these features, and you'll have a competent full-size pickup that can carry whatever you need.