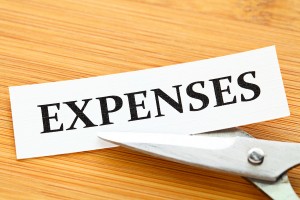 Cutting expenses is the key to running a more profitable company. Sure, to make money you have to spend money — but as technology changes and prices drop, there are opportunities for you to reduce your spending. You may be able to replace several pieces of equipment with one, or eliminate other services altogether. The more attention you pay to cutting costs, the more money you'll have left over for your family. After all, that's why you're in business, isn't it?
Some of the areas where cutting expenses should be fairly easy include the following:
Telephone: If your business phone line is a land line, ask about bundling it with other services that your phone or cable provider offers to reduce your total bill. If you use a cell phone for business, try to match your usage with the lowest-cost rate plan. Don't pay for more texts than you need, for example, and don't choose a domestic-only plan if you make weekly calls to family outside the U.S. Instead as Consumer Reports notes, you should compare phone plans regularly to be sure you've got the best deal for the amount and type of your phone usage. You may even find that a more expensive unlimited plan can save you hundreds of dollars each year.
Fax: Do you still have a dedicated phone line at your office to send and receive faxes? If so, get rid of it. You'll save yourself hundreds of dollars each year on phone service and free up some desk space. An electronic fax service like eFax can accept and send faxes from your computer or wireless device for less than $17 per month. And you don't have to worry about replacing your fax's toner cartridge when it runs out.
Credit card processing: How are you processing your customers' credit card payments? Many businesses sign up for a merchant account, but in many cases, that's overkill. Unless you're processing thousands of dollars in sales each day, you don't need an expensive merchant account. By opting for a mobile payment solution like Square, for example, you can save money on an annual fee, terminal fees, gateway fees and transaction fees. Square charges a flat 2.75 percent rate and will even send you the card reader for free. But Square is just one option — as Entrepreneur notes, there are many other credit card processors to explore that can save you money. Or you can go with the current industry leader, PayPal, which accepts payments from bank accounts, credit cards, and other PayPal users for a fee of 2.9 percent plus $0.30 per transaction — or less, if you do a lot of business through PayPal.
If you make cutting expenses part of an annual review of your business processes, you're likely to find many other savings opportunities. You can even set goals for how much money you want to save the following year and then talk to your providers about how to do it.