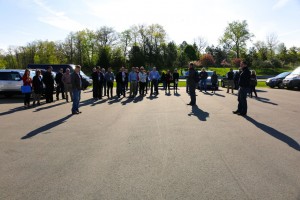 Having good partners is paramount to the success of any business, ours included. Accordingly, our objective here at FCA US Work Vehicles is to be an ally to the people who depend on our vehicles for work, hoping to win their loyalty in return. One good way for us to do that is to align with the trade associations our customers belong to—from the National Association of REALTORS® to the Associated General Contractors of America to the Dairy Farmers of America and many others.
In addition to offering incentives to their members, we're committed to fostering productive in-person relationships with all of our partners. That's why for another year we invited representatives from each of our partner associations to join us at FCA US LLC Headquarters in Auburn Hills, Michigan, for our annual Association Days.
This year's event began with a test-drive experience at the special "Evaluation Road" on the FCA US campus, where attendees were handed keys to a number of vehicles, including the all-new Ram ProMaster City™, the all-new Chrysler 200 and the all-new Jeep® Renegade. The day culminated with a fascinating tour of the Warren Truck Assembly Plant following a fun lunch at headquarters. From start to finish, it was our honor to spend time with representatives from so many great associations, every one of which we're proud to call our partner.
Here's a look back at some of the highlights from the day.
Vehicles lined up for a test drive
The Ram ProMaster® and Ram ProMaster City™
Entering the Evaluation Road
Exploring the RamBox® Cargo Management System
On the Evaluation Road, FCA US Headquarters in the distance
A Ram ProMaster returning from a test drive
Evaluating a Ram ProMaster