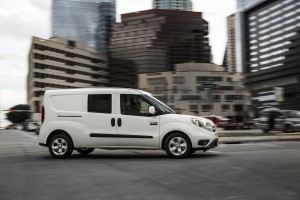 In today's ultra-competitive cargo van market, versatility is the name of the game. It's no coincidence then that we designed the all-new Ram ProMaster City™ to be the quintessential small cargo van for a variety of professions, from photography to fashion to fresh-squeezed juice and just about everything between.
Please enjoy the following three videos, each one highlighting the ability of the Ram ProMaster City to meet the needs of entrepreneurs like you, no matter your line of business.
Driven to Succeed | EMRGE Supply Co.
Description: Inspired by their shared passion for electronic music and culture, friends Seth, Alex, and Ryan launched EMRGE Supply Co., a clothing and lifestyle company. Tag along as the guys load up their products in the all-new 2015 Ram ProMaster City and hit the road for one of the country's biggest music festivals.
Driven to Succeed | Squeeze Juice Works
Description: When she was diagnosed with a serious health condition, Kelly Lessem turned lemons into lemonade. Or more accurately, she cold-pressed fruits and vegetables into a thriving health-conscious juice business. Now, ride along with Kelly and her business partner as they "squeeze the day" in the all-new 2015 Ram ProMaster City.
Driven to Succeed | Jen Bravo Creative Group
Description: Photographer Jen Bravo has a lot to focus on: a husband, two small children and her growing creative agency. And when this enterprising mom-preneur packs her family and her equipment into the all-new 2015 RAM ProMaster City for a busy day, there's no telling what will develop.
Want to learn more about the Ram ProMaster City and how it can be help your business? Visit your nearest BusinessLink dealer and schedule a test drive today.