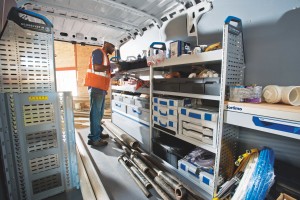 Seasoned small-business owners know that lasting success depends in large part on adaptability. How well a company can adapt to changing or new markets will determine how fast it can grow or even if it remains viable. Similarly, how well a company customizes (read: adapts) equipment to perform specialized tasks could potentially set it apart from the competition.
The latter point is not lost on us. We provide a number of incentives and services to ensure FCA US LLC vehicles can do all you need them to, and more. For starters, our vehicles, specifically Ram trucks and Ram ProMaster® cargo vans, are designed for easy upfit. In a sense, they are blank slates that can be conveniently customized to best perform whatever task you have in mind.
To help offset the cost of upfits, we offer a number of On The Job incentives. For example, small-business owners can get up to $1,000 to add equipment to their new commercial vehicle. A similar incentive is available for adding your company logo or other graphics to a vehicle.
Finally, if you need help installing a custom upfit when the time comes, your certified BusinessLink dealer will happily put you in touch with a trusted upfitter (it's one of the benefits of joining BusinessLink). However, another excellent option is to order your upfit right from us. As evident in the video below, we've optimized the upfit process so that no matter what it is you do the perfect vehicle can be made available right from the factory — or, more accurately, right from our upfit center across the street from the factory.
Please contact your nearest BusinessLink dealer for more information on the Ram ProMaster and the upfit process.