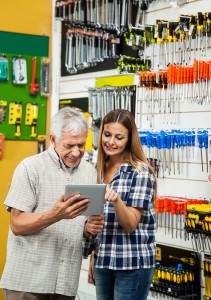 More businesses are going high-tech to achieve success. The Hispanic Business Growth and the Mobile Future study found that mobile tech is impacting growth and productivity. Today's apps for small business offer ease and simplicity that workers in any industry can use. The impact on the bottom line is proving to be tremendous.
Interacting and organizing
The survey on Hispanic business growth was done in partnership with the United States Hispanic Chamber of Commerce (USHCC) and Latinos in Tech Innovation and Social Media (LATISM). The findings reveal that more than 80 percent of small firms are using mobile to interact on social media and manage their calendars. More than 70 percent use them to take notes, while more than 50 percent use mobile apps for banking and content creation, which are considered more complex.
The business owners surveyed also admitted that they feel positive about what their apps for small business can accomplish in the near future, with more than 50 percent expecting them to make an even bigger impact. More than 80 percent of Hispanic businesses are seeking more tools and resources, and a significant percentage want to tap into more mobile marketing know-how.
Simple, affordable and smart apps
Applications like Google's apps for business give everyone from managers to field workers a way to work anywhere from their mobile devices. That's because data can be accessed anywhere, anytime, as long as there's a way to connect to the Internet. Free versions of Gmail, Google Calendar and Google Docs are easy ways for employees to organize their work, schedules and collaborations with others, whether they're at the office, home or a work site. The usefulness of these apps has been proven to many businesses that invest in the fully integrated apps with more features. The upgraded versions cost up $50 per year per user.
Any small business — from plumbing, masonry and carpentry to excavation, landscaping and contracting — uses mobile to some extent. Having information on your smartphone or tablet is convenient for sharing and looking up data, and that kind of 24/7 access promotes productivity. Most of all, these applications are designed with simplicity and business goals in mind: they are built to be used with ease.
Web collaboration counts
Business owners are looking to make an impact in their businesses, and this is possible even for the smallest companies thanks to apps for small business. By incorporating easy-to-manage apps, the power and reach of mobile technology is put to its best use. In the end, that helps boost collaboration, which is important for any business to thrive today.