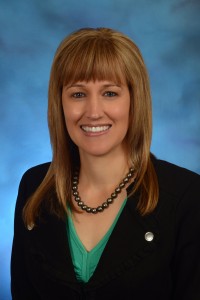 The following excerpt appears on our blog courtesy of our most recent partner, the National Association of Women Business Owners (NAWBO). For the complete interview with Becky Blanchard, please visit the September Edition of their monthly online publication, NAWBO One.
How do you get ahead in a traditionally male-dominated field? If you're Becky Blanchard, Director of Marketing for Ram Trucks, you follow your passion and show great acumen for the job. Beginning her career as an engineer and moving eventually into marketing, Becky has developed a rare — and valuable — double perspective on the auto industry. Here she answers questions about upcoming vehicle trends, the truck-buying public and how to decide on the right vehicle.
NAWBO: What percentage of your customers are women? How much does this influence vehicle design and marketing?
Approximately 10 percent of our customers are women. However, we know from research that women influence a far greater number of purchases, around 80 percent. When we develop new products we try to address the needs of all our customers. But we also understand on a basic level, women require the same things from their vehicles that men do: capability, efficiency, dependability and reliability. So, we don't necessarily change our message based on whether it's a man or woman listening. The message is always that our trucks will get the job done. What changes is how we convey that message.
NAWBO: What are some exciting automotive trends you can tell us about?
From a business owner's standpoint, the most exciting development in the industry is choice. Five years ago, customers essentially only had one choice of van type in the US from two manufacturers. Today, they can choose from multiple van types from many manufactures. It has been important for Ram to be one of the companies to offer new alternatives. We now have a small van called the Ram ProMaster City® and a larger front-wheel-drive van, the Ram ProMaster®. More choices allow business owners to pick the right vehicle for their needs instead of compromising.
NAWBO: What challenges and opportunities have you faced as a high-level woman working in a traditionally male-dominated field?
I've never felt like I've had different challenges or opportunities being a woman in this industry. Since there are traditional "truck guys" on the Ram brand it makes sense to have some differing perspectives in the room, because traditional "truck guys" are not the only people buying trucks anymore. But the bottom line is we're all professionals working toward a common goal. That's really all that matters at the end of the day.
Visit NAWBO One to continue reading this interview with Becky Blanchard. You will find the page here.