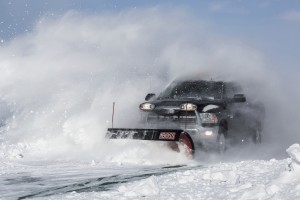 Professional snow and ice removers are preparing now for what stands to be a busy next few months. Thanks to a snowplow incentive package from FCA US LLC worth up to $2,000, their winter preparations can easily include a brand-new Ram Heavy Duty truck.
From now through January 4, 2016, FCA US is offering a $500 snowplow bonus allowance to business owners who purchase a Ram Heavy Duty truck with the intent of using it in the day-to-day operation of the business. This bonus is in conjunction with the $1,000 Commercial Truck Season incentive and goes hand-in-hand with an existing $500 benefit offered to members of the Snow & Ice Management Association (SIMA).
Non-SIMA members can also take advantage of the incentive, less the $500 SIMA member benefit. Prospective buyers who are not SIMA-affiliated can save up to $1,500 by meeting three requirements.
The buyer must be a business owner
The buyer must provide proof of business ownership in the form of business incorporation documents, tax ID number or other valid documentation
The vehicle must be used in the day-to-day operation of the business
For more information on these incentives, and to test drive a new 2015 Ram 2500 or 3500, please visit your closest BusinessLink dealer.