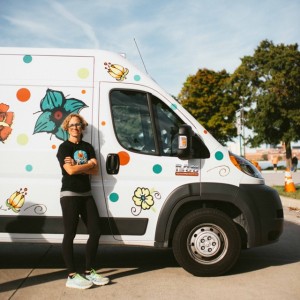 The following post appears courtesy of our partners at Ram Trucks. It originally appeared on the RamZone blog on October 20, 2015.
Meet Terra Castro, founder and head coach of "Be Bold Crew" — a Detroit-based fitness community focusing on empowering athletes to "be bold" in sport and life. Through Terra's Ram ProMaster — or the "Be Bold Bus" — the Be Bold Crew is able to bring all ages and abilities together as a community.
"Detroit is a special city. I am a very passionate person with a heart for the city and the desire to shine light in what we do. I could have dwelt on the past and all that happened, but boldly went forward in building what I saw as a need in our city," said Terra.
"So much of our community doesn't have access to the equipment or have the funds to join a gym. I wanted to bring training to the people of our city, so I leaped."
Once Terra had the idea of a mobile pop-up training vehicle, she started to look into options that would help deliver the mission of Be Bold Crew. "I researched other vehicles, but the Ram ProMaster was the perfect fit," said Terra.
Terra needed a vehicle that could store gear and potentially pull a trailer to transport triathlon bikes to the Be Bold Crew athletes' races.
"I went to a local dealer, traded in my car for a Ram ProMaster, and now I have a mobile gym."
With her ProMaster, Terra launched Be Bold Crew's mobile pop-up training, expanding out into the community so training can be available to everyone in the city.
Terra Castro and the Be Bold Crew provide proof that bold dreams lead to bold actions, and bold results will follow. We are proud to say the Ram ProMaster is a part of that.