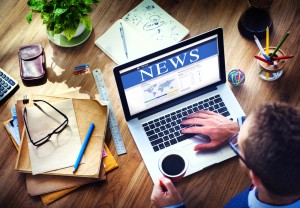 Here at FCA Work Vehicles US, we understand that entrepreneurial success comes, in part, from staying on top of developments in the world of small business. We also understand that in any given month there is just too much good information to discover on your own.
With that in mind, we're pleased to bring you the December edition of Small Business in the News, a monthly series in which we share a few of the noteworthy articles we've come across in our own attempt to stay "in the know." Please enjoy.
The Best Times to Post on Social Media
Achieving optimal results for your company's social media campaign requires posting at opportune times — in other words, when your target audience is online and most receptive to your message. That's the gist of this article from REALTOR® Magazine, which names the ideal days and times to post to major social platforms, including Facebook, Twitter and YouTube, among others. Also included are the days and times one probably should avoid.
Who benefits most when you patronize independent small businesses around the holidays? According to our partner Independent We Stand, just about everybody – you, the community in which you live and, of course, your favorite local businesses. Included in this article are 10 reasons why keeping it local at this time of year is the best choice for the economic health and prosperity of your community.
Why a Mobile Presence is so Important to Small Business & How to Launch Yours
Penned by Bill Brunelle, co-founder of Independent We Stand (see above), and appearing in Small Biz Daily, this piece lays out the argument for mobile-friendly websites. According to Brunelle, more and more consumers are using mobile devices to "search for businesses, research products and even make purchases." If consumer habits alone weren't reason enough to switch to a mobile-optimized website, keep this in mind: Businesses that don't make the switch could be penalized by Google. The search giant recently introduced changes to its algorithm that reward mobile-optimized websites with higher search rankings.
Have you recently come across any small-business news worthy of sharing? If so, let us know about it in the comments section below!