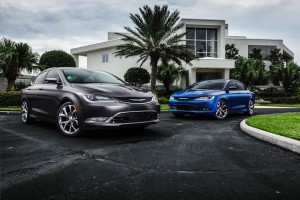 For the Chrysler Brand, safety and security take a backseat to nothing.
FCA Work Vehicles US is pleased to announce the Insurance Institute for Highway Safety (IIHS) has again named the Chrysler 200 a Top Safety Pick+. Completely redesigned for model year 2015, the stylish yet economical sedan joins the FIAT® 500X by achieving this distinction for the second year in a row.
Top Safety Pick+ status is the highest rating given by the IIHS and is contingent on the availability of Auto Emergency Braking (AEB) technology. As featured in FCA US LLC vehicles like the Chrysler 200, AEB blends the benefits of radar with the capabilities of camera systems, affording greater braking precision. In the Chrysler 200 specifically, AEB technology is known as Full-Speed Forward Collision Warning-Plus, and the IIHS has rated it "superior" in tests.
"These results are a clear indication of where we're headed," said Mike Dahl, Head of Vehicle Safety and Regulatory Compliance, FCA-North America. "That this advanced technology is available [in the Chrysler 200] demonstrates our commitment to continue to incorporate AEB into our vehicle fleet."
No mainstream automaker offers this technology in more segments than FCA US LLC. AEB is available in eight FCA US vehicles across five segments:
Full-size SUV (Dodge Durango)
Mid-size SUV (Jeep® Grand Cherokee, Jeep® Cherokee)
Small SUV/Crossover (Jeep® Renegade, FIAT 500X)
Mid-size sedan (Chrysler 200)
Full-size sedan (Chrysler 300, Dodge Charger)
To learn more about the safety and security features of these vehicles, and to determine which is the right one for you and your business, please visit your local BusinessLink dealer.