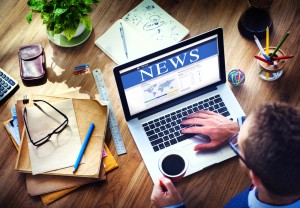 Here at FCA Work Vehicles US, we understand that entrepreneurial success comes, in part, from staying on top of developments in the world of small business. We also understand that in any given month there is just too much good information to discover on your own.
With that in mind, we're pleased to bring you the January edition of Small Business in the News, a monthly series in which we share a few of the noteworthy articles we've come across in our own attempt to stay "in the know." Please enjoy.
Why Small-Business Failure Rates are Declining
Fewer small businesses are failing now than 30 years ago, according to this article in Entrepreneur. Why the trend? Contributor Scott Shane sees many reasons, including better access to information resulting in more-informed business owners. Shane also cites technology as a factor — small-business owners today have more and better tools at their disposal, making it easier for them to manage things like inventory and customer transactions than it was for their predecessors.
Holiday Shopping Results Show Retail Trends
The 2015 holiday shopping season marked an increase in e-commerce sales of 12.1 percent, according to this article from the National Federation of Independent Businesses (NFIB). Success in this arena may have come at the expense of sales in brick-and-mortar stores, however, which showed only modest growth (0.5 percent) over the previous year. It should be noted that online sales via mobile devices were particularly strong, with targeted search campaigns and email marketing leading to more apparent success in terms of sales than social media.
The 18 Weirdest Product Ideas Today
Your daily dose of levity comes courtesy of Small Business Trends and this article documenting 18 of the strangest products to hit the market recently. If you ever start to think your ideas are too far out there, just remember the clip-on man bun, the selfie toaster, potato greeting cards or any of the other 15 items on this list. The fact they've garnered this much attention should comfort you in your own pursuit of success.
Have you recently come across any small-business news worthy of sharing? If so, let us know about it in the comments section below!