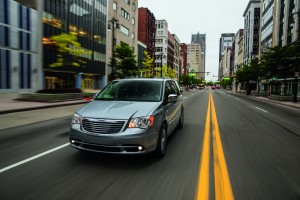 Every business owner knows the value of loyal customers. Not only does their loyalty help bolster the bottom line, they are often the most important brand advocates, offering sincere – and, more importantly, effective – recommendations for products and services to friends and family both in person and online. In fact, data suggests "92% of consumers believe recommendations from friends and family over all forms of advertising" (source).
With that kind of value potential implicit in every loyal customer, it's no wonder the IHS Automotive Loyalty awards are a big deal to players in the auto industry. Likewise, it's no wonder we're so pleased to report that FCA US LLC has locked up four such awards for the 2015 model year, securing the honor for the Chrysler Town & Country, the Jeep® Grand Cherokee, the Jeep Wrangler and the Jeep Renegade.
What makes the awards even more special is how they add to our continuing story of customer loyalty over time. This year's Loyalty Award is the 15th consecutive earned by the Chrysler Town & Country in the Non-Luxury Mid-Size Van category, for example. The Jeep Grand Cherokee scored its seventh award in the Non-Luxury Mid-Size SUV category, while the Jeep Wrangler won the Non-Luxury Compact SUV award for the third consecutive year. In its first year of eligibility, the Jeep Renegade won in the Non-Luxury Compact CUV category, while the Jeep Brand earned the Highest Conquest Percentage Award.
"We are pleased to recognize FCA US not only on loyalty for continued high levels of retention across several key makes within the Chrysler and Jeep Brands, but also on achieving the highest level of conquest for the Jeep Brand across the segments in which they compete. This is a great accomplishment in 2015," said Steve Had, vice president, sales and marketing solutions at IHS Automotive.
The IHS Automotive Loyalty Awards recognize manufacturers and brands for superior owner-loyalty performance, which is determined when a household that owns a particular vehicle returns to market to purchase or lease another new vehicle of the same make or model. The 2015 awards are based on an analysis of personal new vehicle registrations during the 2015 model year, which ran from October 1, 2014, to September 30, 2015.