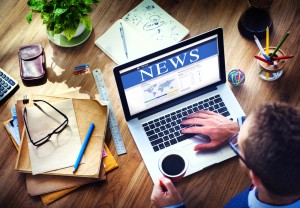 Here at FCA Work Vehicles US, we understand that entrepreneurial success comes, in part, from staying on top of developments in the world of small business. We also understand that in any given month there is just too much good information to discover on your own.
With that in mind, we're pleased to bring you the February edition of Small Business in the News, a monthly series in which we share a few of the noteworthy articles we've come across in our own attempt to stay "in the know." Please enjoy.
The Value of Procrastination
Procrastination gets a bad wrap, according to this story in Business Insider. Rather than a "barrier to success," it could be that temporarily avoiding work lets our most creative ideas bubble up from our subconscious "at the right time." The idea is not a new one nor without modern proponents, as evidence suggests both the Ancient Egyptians and Steve Jobs embraced procrastination in a way many of the rest of us are reluctant to. Read the full story now … or later, whenever you get to it.
5 Sales Miscues
We found this quick but good read in the new resource library on sima.org, the website belonging to the Snow & Ice Management Association. In it, Kirk Armstrong, one of the "preeminent sales development professionals in the country," documents five common mistakes that can hinder a company's success. Talking too much, not listening enough and lack of process are among the miscues that can affect sales, Armstrong says. Whether you're in snow-and-ice management or a different industry, it's solid advice.
Bright Future for Connected Buildings
Does your small business have plans to move or build a new location in the next few years? An article in the latest Construction Executive explores how the Internet of Things (read: inter-connected devices) will affect work places of the future. From safety and security to energy and property management to IT operations, a connected building's core functions will be monitored, adjusted and optimized from afar, in real time, not just to save business owners money, but to ensure the most productive environments for workers. To be sure, the future, at least according to this article, is looking pretty good.
Have you recently come across any small-business news worthy of sharing? If so, let us know about it in the comments section below!